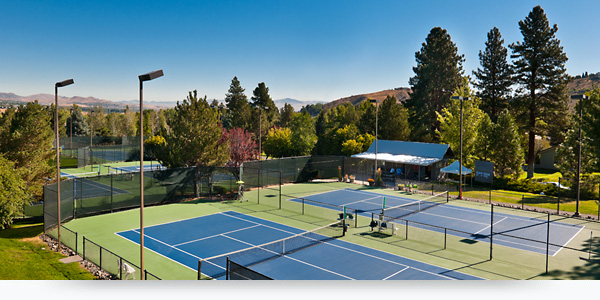 Youth Tennis Camps & Programs
Caughlin Athletic Club offers youth tennis camps & programs. Getting your kids into tennis is giving them the gift of health, social interaction and fun all at once. It is truly the sport of a lifetime. Getting your child, or children, involved in tennis ensures that they will be active for years to come. At Caughlin Club Tennis Center we provide kids academies and camps to grow their tennis games and elevate their fitness.
Year Round Tennis Programs
Junior Tennis Academy
Our Junior Tennis Academy for kids ages 10 – 18 offers two hours of intensive tennis training with emphasis on footwork, fitness, shot selection, grips, strokes, and competition. The goal of our tennis staff is to understand each child's individual tennis goals in order to help them become the most fundamentally prepared player they can be.
10 and Under Tennis
For our 10 and under kids we offer a slightly scaled down version of our Junior Academy. In a 90 minute class, we are able to combine tennis fundamentals using the proper equipment to ensure success. With properly sized racquets and lower compression balls, our kids are able to pick up on the basics of tennis and have fun doing it.
Seasonal Tennis Camps
Our spring, summer, and fall tennis camps offer a great way for your child to play tennis in a relaxed, camp-like atmosphere. The tennis camps follow the Washoe County School District calendar and are only offered during the kids' school breaks.
Little Tennis Aces
Ages 3-5
Monday-Friday 8:30am – 9:15pm
$50 per camp
We offer a 45 minute class for our "Little Aces" – children ages 3 to 5. We make sure every child has the proper sized racquet, the proper form and a lot of fun.
Junior Tennis Camp
Ages 6-17
Monday-Friday 9:30am – 12:30pm
$150 per camp
Children ages 6 to 17 are invited to join our three-hour tennis camp experience. In this setting, we focus on participation, instruction and putting the "fun" in fundamentals. Campers of all abilities and skills are welcome at the Caughlin Club Tennis Center.
Get your child playing the sport of a lifetime today. Contact Kristine at 775-301-0543 or Randy at 775-240-6505 for all junior tennis activities in Reno, Nevada.