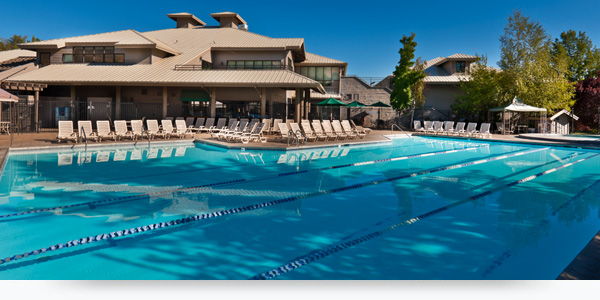 Caughlin Athletic Club Aquatics
Soak up the sun, float in the water or get a great workout at our year round pool. Our facilities include a 25 meter pool, children's wading pool and a whirlpool.
Lap/ Fitness Swim
Our outdoor pool is open year round. Swimming is a great workout with the pristine backdrop of Caughlin Ranch and is always available for lap swimming.
Swim Lessons (by appointment)
Learn how to swim at the Caughlin Athletic Club. Swim lessons are taught by certified swim instructors and include instruction in personal safety, stroke technique and development. We have both adult and children's swim lessons. We provide a supportive, non-threatening environment to ensure each student develops into a confident swimmer. We offer both private and semi-private lessons to fit everyone's needs and budget.
Adult Swim Training at Caughlin Athletic Club
Are you a triathlete looking to get faster in the water? Interested in doing a triathlon but nervous about the swim? Do you swim for fitness and want to improve your technique?
If you answered yes to any of the above questions, contact Ryan Evans of EFAST today to schedule an individual stroke analysis at Caughlin Athletic Club. Ryan Evans, 775-287-6883 or ryan@endurancefast.com.
Aquatic Classes
At the Caughlin Athletic Club we offer an array of different pool classes from water aerobics to stroke development. There are many benefits to your body from swimming including reduced joint stiffness to lower blood pressure.
Family Swim
Please come by the pool and enjoy our fun and relaxed environment. With food and drinks from the cafe have fun day with your kids cooling off in the hot Nevada sun. Towels and lounge chairs are available. Guests are welcomed at a nominal fee.
Please contact the front desk to sign up for any of aquatics programs that we offer.