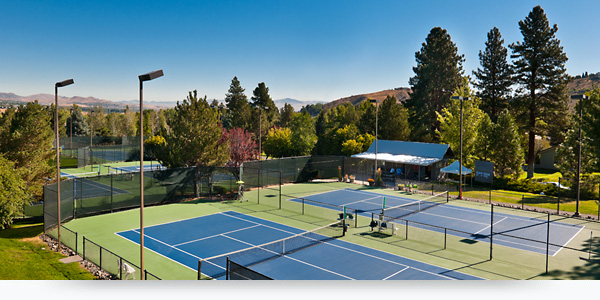 Tennis Lessons
Merriam-Webster defines a lesson as, "a piece of instruction…a reading or exercise to be studied by a pupil…something learned by study or experience." For the finest tennis instruction experience in Reno, you have to visit the pros at Caughlin Club Tennis Center. Our staff provides the best combination of tennis experience, and USPTA training, to ensure that your on court experience is challenging, educational and enjoyable.
In addition to the camps and academies offered at the Caughlin Club Tennis Center, our knowledgeable tennis staff will happily conduct private, semi-private, group and team lessons to better suit your needs.
For more information and to sign up for lessons please contact Randy, the Director of Tennis Programs at 775-240-6505, Kristine, the Director of Tennis Activities at 775-301-0543 or email us at tennis@caughlinclub.com .
Tennis Lessons
Individual
$60 per hour ($55 member)
$30 half hour
$330 for six hours ($300 member)
Group & Team Lessons
$60 + $5 for each additional participant after two people
Year Round
For additional tennis lesson information in Reno, Nevada click on the link or simply give us a call. We look forward to teaching you and your family tennis.