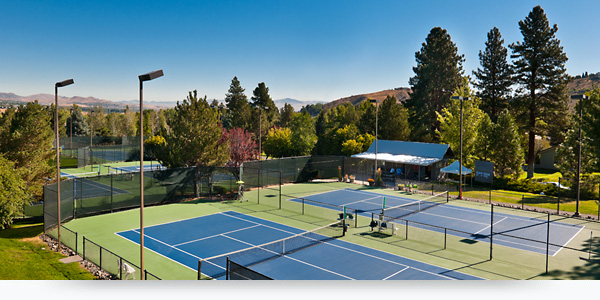 Tennis News & Events
Tennis News:
On Wednesday, November 1st, Cardio Tennis will be moving to it's new time at 10:00 a.m. Remember your layers – we may start out a little chilly, but I promise we will get moving and warm up quickly. There will be cardio on Friday the 24th to help you work off that extra helping of stuffing.
Speaking of time changes, November 5th we move our clock's back 1 hour. It will be darker earlier, which also means cooler temperatures. For our kids in Junior Academy, and 10 and Under, please remember to dress them accordingly. 
Enough cold weather talk, let's go to where things are HOT, HOT, HOT. The Caughlin 4.5+ women's team is heading to Districts with a commanding sweep over their Redding, California opponents. A huge shout out to Anita Paris for captaining and coordinating. Congratulations to all the Caughlin players: Lisa Abbott, Penne Burgess, Chris Fegert, Carly Garamendi, Krista Kip, Anita Paris, Lynley Payne, Laura Pierce, Mary Alice Pisani, Rose Prado- Navone, Holly Rittiman, Lucy Schram, Candice Smith, Chris Vecchione, Kristine Wymore. 
Not to be outdone the Caughlin 8.0 Mixed Doubles team is also making a trip to Districts in California. Lead by Captain Matt Payne this tour de force was comprised of the following players: Trevor Averett, May Blom, Natalie Dejan, Jim and Lou Eftimoff, Carly Garamendi, David Heldt-Werle, Vu Nguyen, Steve Privette, Mary Wardle and Darci Watson. California will never be the same.
Thank you to everyone who participated in the Halloween Social. What a great day. It was so fun to see the kids on the courts mixing it up with the adults. Fantastic costumes and awesome tennis.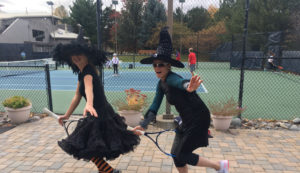 Finally, it's Thanksgiving season and time to think about giving back. On Saturday, November 11th, we will be having our Community Awareness Give Back Tennis Social. Our beneficiary again this year is Northern Nevada HOPES. If you're interested in participating please contact Kristine Wymore at 775.301.0543.
The Caughlin Tennis Department is "thankful" for all your support this year, and we wish you a great Thanksgiving holiday.