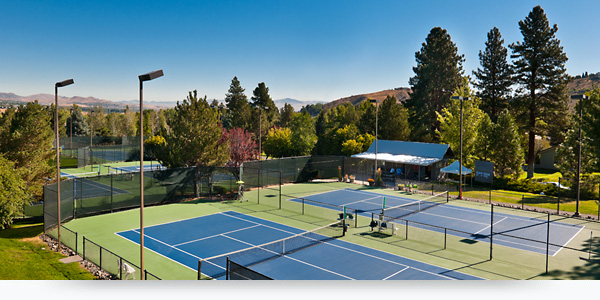 Tennis News & Events
Tennis News:
Summer Tennis
Summer camps are going strong. Thanks to everyone who made June such a successful month. Our trained staff loves working with the kids, and we hope to see them back on the courts in July and August.
We will be having our tennis camps and academy classes on July 4th. 
On Friday, July 9th we will have our Woodies and Whites Wimbledon social from 6:00 – 8:00 p.m. Be sure to reserve your spot with Kristine Wymore today. 
On Saturday, July 15th we will have our high school tennis rally. Area middle and high school students are invited to come out to play tennis, eat pizza, and have a great time. The cost is only $5.00. Reserve your spot with Kristine Wymore today.
Caughlin Tennis is proud to be participating in a grassroots tennis program called Northern Nevada Interclub. Currently, we are forming a women's interclub comprised of 3.5, 4.0 and 4.5 players. If interested please contact Kristine Wymore for more details. 
Finally, CONGRATULATIONS to our women's 4.5 USTA team heading to Districts in August. Also, thanks to all of our Minutes captains, and players, who represented Caughlin with honesty, integrity and hospitality. We are fortunate to have such a wonderful tennis family.