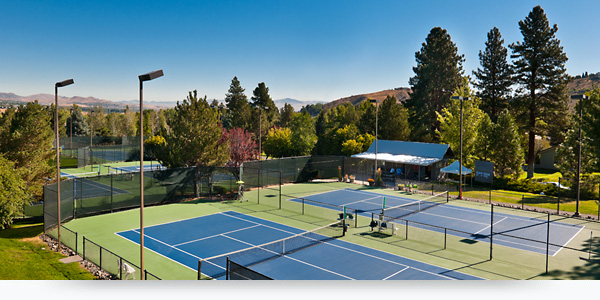 Tennis Staff
Our tennis professionals are highly qualified and have a proven track record in tennis tournaments and instruction. Our diverse team is here to provide you with the lessons that will take your tennis skills to the next level. The programs that we have to offer at the club are complemented with a group of professionals that have competed and played the game at a high level. We create a competitive environment that is fun and enjoyable for all ages and level of play.
Randy Reynolds: Head Pro and Director Tennis Programs
Randy, USPTA teaching professional has been coaching tennis for over 10 years. He grew up in Reno, Nevada where he worked at the local tennis center to pay for his tennis lessons. As a junior, Randy played the Northern California tennis tournaments obtaining rankings in the 20s in singles and doubles. Randy went onto play Division I tennis at the University of Nevada, Reno before becoming certified to teach tennis professionally. Obtaining his MBA, Randy has committed himself to making an impact in the tennis community, actively participating in local and national tennis opportunities.For inquiries call Randy at 775-240-6505.
Kristine Wymore: Director of  Tennis Activities
Kristine Wymore is the Director of Tennis Activities, where she organizes all the tennis events, leagues and tournaments. As a junior, Kristine played in Wisconsin and obtained a number two ranking in her division. Kristine went on to play four years of collegiate tennis for St. Lawrence University in upstate New York. On court, Kristine brings personality and passion that makes the game of tennis fun and memorable.
Jarett Wright: Tennis Instructor
Jarett is a USPTA High Performance Tennis Coach that has developed several top junior players with national rankings. Born and raised in Reno, Jarett is one of the few local players to obtain top 50 national rankings throughout his junior career. Prior to coming to the Caughlin Club, Jarett taught at Lakeridge for several years and served our country. Jarett has a passion for developing junior tennis players and brings a wealth of tennis knowledge to the club.
Lauren Evans: Tennis Instructor
 Lauren Evans, a PTR certified tennis pro and ACE certified personal trainer, has been focused on high performance coaching for over 10 years. Growing up in a military family Lauren has played tennis tournaments and has received coaching from some of the best coaches around the world. Her performance on and off the court earned her a full scholarship to play NCAA Division I tennis at Furman University in South Carolina, where she was named MVP. Lauren has a passion for helping people achieve things they never thought possible and brings a wealth of knowledge to the club.
Chris Ferguson-McIntyre: Tennis Instructor
Chris taught at the Reno Tennis Center before becoming a tennis pro at Caughlin Club. Born and raised in Reno, Chris began playing tennis when he was 3 years old with his father Carlo. As a junior, Chris competed in USTA Northern California tournaments and won the team state championship for Galena High School in 2001. Chris went on to play division I tennis for the University of Nevada and continues to compete in tournaments today.
Join us on the tennis court today and learn more about our team of tennis pros.