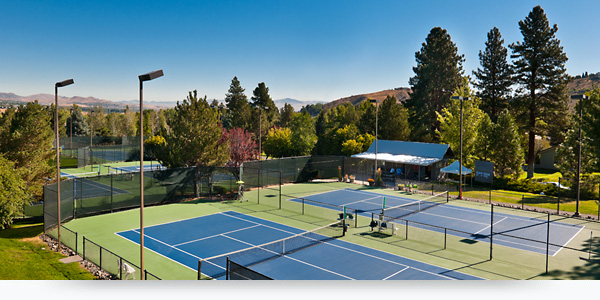 Tennis at Caughlin Athletic Club
Welcome to the Caughlin Athletic Club Tennis Center. Our tennis center is nestled in the heart of the Caughlin Club community, in Reno, Nevada – The Biggest Little City in the World. Our nine hard courts are situated near lush ponds, and streams, in one of the most desired communities in Reno. We are open all year around, and with seven of our 9 courts lighted, we are open morning until night. Reserve a Court Today!
At the Caughlin Tennis Center, we offer an exciting array of social, competitive and educational tennis opportunities for everyone in your family, from the youngest junior, to the most seasoned adult. Tennis lessons are led by our trained staff of instructors and USPTA certified Teaching Professionals. In addition to the best tennis courts in Reno, we also offer pickleball, access to the Ace Attack tennis ball machine, a backboard and much more.
While maintaining its members only club status, Caughlin Athletic Club can be made available for public use. We invite you to join us at the Caughlin Tennis Center for tournaments, socials, classes, lessons, leagues, junior tennis academy, 10 and under tennis programs, adult tennis academy, cardio tennis, clinics and fun.
We're excited to share our love of tennis with you and look forward to seeing you on the courts in Reno soon.
Testimonials
"I have been taking lessons from Randy for a quite some time now and my game has improved drastically! My backhand is becoming better that my forehand….and I can't wait for another practice session. Randy definitely listens to you and he takes the time to work on a single element you wish to improve. He also works on developing your game strategy by practicing many different drills ( my favorite) as if you were in a competitive match. If you are looking for a great tennis coach to take your game to next level Randy is your guy! He is a real coach and he definitely knows tennis!"